Ekpa İnşaat offers great opportunities for a new duplex house in Antalya.
Antalya satılık daire ve Antalya satılık dubleks villa seçenekleriyle yatırımcıların ilgi odağı oluyor.
Son dönemlerde, kalabalık şehirlerden, kirli havadan, bitmek bilmeyen trafik sorunundan sıkılanlar; ülkenin güney kesimlerinde yeni bir hayata başlamayı seçiyor. Elbette; tercih listesinin ilk sırasında Antalya yer alıyor. Antalya, kente yeni bir soluk getirmeyi amaçlayan emlak konut projeleri ile dikkatleri üzerine çekiyor.
The most recent residential project of Ekpa İnşaat, "1207 ANTALYA" is set to be a unique project bringing peace, aesthetics, and trust together in Antalya's Kepez district just like the company's previous project "Cennet Tepesi Duacı Villas" did. The beautiful nature of Antalya, the calm atmosphere of the city center, gorgeous sunsets; are all waiting for you in Kepez. The project is built on 30 acres of land; with 1163 residences and 46 shops, and is going to be the largest residential project in Antalya. 1207 ANTALYA brings the pure touch of nature to your life with its 24,712 m² green area. The project offers a variety of options for both singles and large families with apartment plans such as 1+1 35.12 m², 2+1 55.36 m², 2+1 65.24 m², and 3+1 80.66 m².
Duplex Houses for Sale in Antalya with Ekpa İnşaat Quality
GThose who want to invest in real estate do not miss the opportunities of apartments and duplex villas for sale in Antalya. Antalya is named as an important center for the real estate world with residential projects contributing to the development of the city. The ever-rising star of the Mediterranean, Antalya is waiting for people with a smart investment vision for the future.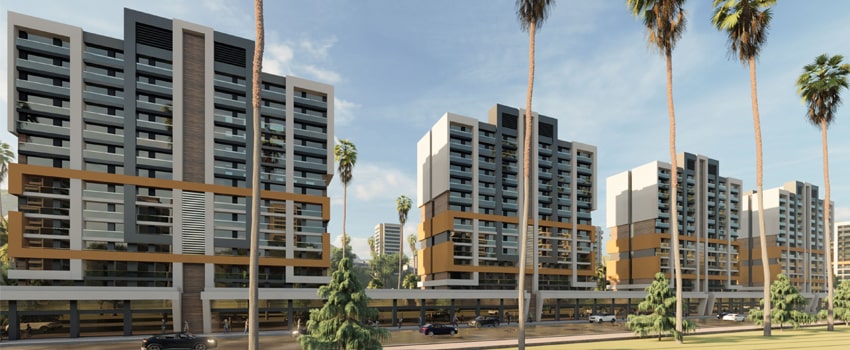 Antalya is seen as a unique city in Turkey and the world with outstanding coastal and yacht tourism. The city fascinates everyone with every region of it from Alanya to Kemer, from Kaş to Belek. The city is considered one of the world's favorite holiday destinations with its beautiful beaches along the coastline, marinas, and holiday options suitable for everyone. It is also a surprisingly good destination for winter tourism. Located in the northwest region of Antalya, Saklıkent hosts 2 ski tracks and welcomes thousands of local and international tourists every year.
The city is on its way to becoming an important center for gastronomic tourism. With its traditional cuisine, unique dishes, and desserts, it offers everyone unforgettable delicacies. The "International Street Flavors Festival" is, in a way, the proof of this. Long story short, both gastronomy and travel tourism scenes are extremely active in Antalya throughout the year.
Duplex Houses for Sale in Antalya for up for a change in their lives
Antalya is by no means only for tourists; It also draws the attention of those who want a change in their lives. Duplex houses, villas, and apartments for sale in Antalya are being considered by quite a lot of buyers. Because it is possible to find an activity for basically everyone who settling for a life in Antalya. The city is an important hub for the region with sports competitions, festivals, award ceremonies, theater, cinema and concert events almost every time of the year. It manages to hook both tourists and permanent residents with activities for all ages and tastes.
Ekpa İnşaat always offers exciting options for Antalya residential projects and provides solutions for every need, while continuing to be the innovative face of the real estate world. To find the right project for yourself, you can contact us to take advantage of the opportunities for apartments and duplex houses for sale in Antalya. You can follow our social media accounts to learn about recent developments and announcements about our projects.